Path // www.robertfrederick.co → blog
Blog
---
---
4 December 2016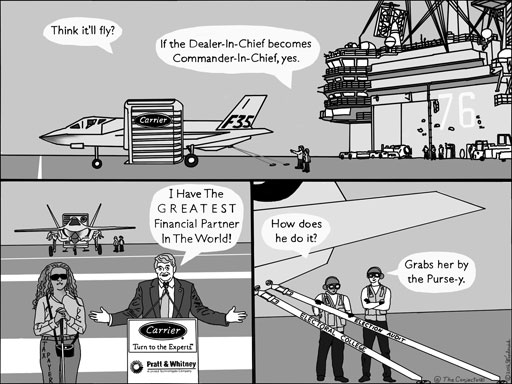 The Carrier deal by Trump and his transition team (even before taking office?) has me angry along with Sarah Palin about cronyism, especially at the expense of we tax payers.
It's an editorial cartoon—not a comic, not funny—and yes, I'm offended by what I drew. But I drew it nonetheless. Please share.
I hope every Elector sees it.
Indiana—where the Carrier plant is—is where I was born. I did this drawing out of care for my country.
For those of you in the military, past or present (including my brother and father who both served in the Navy), I thank you for your service. I also appreciate that sometimes the jokes I've heard from some of you in the military have been a bit crude. No offense was intended in putting the crude joke in the mouth of a sailor.
Indeed, I drew this as being on an aircraft carrier for the obvious illusion to the Carrier company, but also because I wanted the F-35 (Carrier is a division of United Technologies, which also makes Pratt & Whitney engines, so there's thought that the company's military contract for those engines might not go through if Carrier had not stayed put in Indiana). I also chose a particular aircraft carrier, 76, which is the U.S.S. Ronald Reagan -- a legacy Trump is trying to tap into but which Sarah Palin, of all people, spoke out against Trump. I guess she won't get the appointment to the V.A..
So, this is a lot of text to go with a drawing, but if a picture is worth a thousand words, maybe the few hundred I've written here won't distract too much from the message, but will help to make sense of the artist's motivation in making it.
30 November 2016
I published the latest episode of The Conjectural today. With this past November's election, all of a sudden in America, it's a strange time for science and for journalism. I spoke with Dr. Kiki Sanford, host of This Week in Science, about her work as a science translator and how that's going to change.
Guest
Transcript coming soon.
28 November 2016
Thanksgiving is over, so the Christmas season is upon us.
For me, that includes a lot of singing Christmas music, which our choir, Bel Canto Company, did this evening in Burlington, North Carolina. We were joined by a choir from Western Alamance high school, which sang three songs after which we joined together to sing a very famous song by John Rutter (under whose directorship I got to sing last year): What Sweeter Music, this rendition done by King's College Cambridge reminding me very much of when I was a boy soprano in Tulsa.
'Tis so good to take time to be artistic. There are a lot of titles I take, but few I enjoy more than that of artist. As difficult as it is sometimes to do well, it is worth every moment to share beautiful music.
24 November 2016
This year, there is a lot to be thankful for.
In particular this year, I am thankful for my family of origin for who they are, who they helped and help me to become and be, and I am so thankful that they could all find the time to come visit.
Yes, we hosted Thanksgiving at our house.
I'm thankful that everything went off without a hitch, and I now so much better appreciate how much effort it takes to host the family for a visit. This seems to be the way of things, though isn't it—you only truly understand something once you experience it yourself?
16 November 2016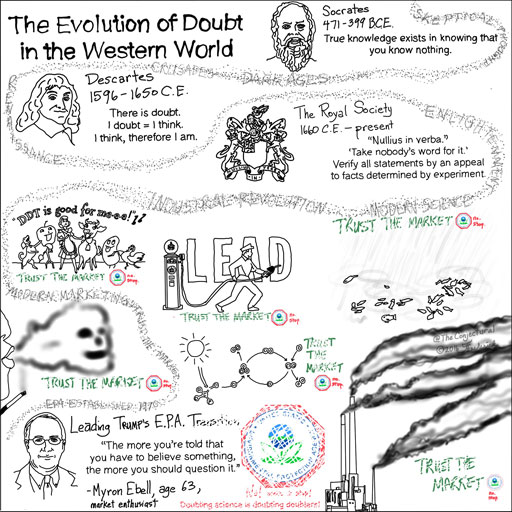 Here's a drawing I did last night of Myron Ebell's place in the history of the evolution of doubt (at least in Western civilization). Why does it matter? He's President-elect Trump's choice to lead the transition involving the EPA, the organization responsible for helping curb business activities so that the air is clean enough to breathe and the rivers are no longer catching on fire in this country.
No, when it comes to the "commons," we should not "trust the market" to self-regulate. History has shown us that the free market, without regulation, only leads to a "tragedy of the commons."
14 November 2016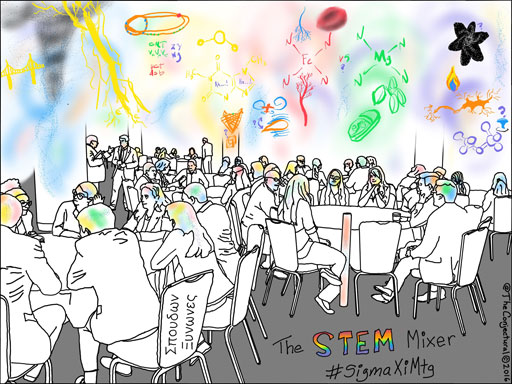 Just spent the past weekend in Atlanta at the annual Sigma Xi meeting, where I participated in a panel and took a lot of interviews. One of my favorite sessions was the STEM Mixer, in which people spoke with one another at pre-assigned-to-topic tables. I did a little drawing of it based on some of the discussions I overheard.
9 November 2016
My fellow Americans have greatly surprised me twice this century. The first time, with the election of Obama, I was inspired and hopeful. The second time, with the election of Trump, I am shocked and still reeling.
I won't be filling up my blog with political posts, for the most part, but will be responding more publicly and regularly on Facebook. Indeed, I might have to accelerate my response to what has felt like—and I don't know because I've never experienced one before—a calling.
What am I feeling called to do? Become a politician.
7 November 2016
"Politics aside, you can't unequivocally deny scientific results," I argued. We were discussing anthropogenic climate change.
"Go take a long walk down a short pier," came the reply.
When taking someone's suggestion to go for a long walk down a short pier, it's worth considering the location and time of year.
I chose Minnesota in wintertime. Turns out, a person can walk on water, and like I'd been taught in elementary school, I tested my hypothesis three times before making that conclusion. There are caveats.
(Continue reading at AmericanScientist.org.)
5 November 2016
Volunteered to be a poll observer and saw democracy in action.
It's curious, but to be a poll worker, you have to be approved of by one of the two parties—Republican or Democrat—as the expectation is that you'll watch out for the other party's shennanigans. An unaffiliated, independent like me evidently isn't expected to want to look out for the election itself, or the shennanigans of either party or of people generally.
I think this is certainly a part of the problem of politics in America: participation is mostly through parties, and even the rules are set up to de-value the contributions, nay, even disallow them, of independents, of which there are more of in North Carolina, I understand, than of official members of either party.
This evening, through serendipity I gather, my experience of the day was affirmed by an independent filmmaker's film about the civil rights movement in High Point, NC, called "The March on an All-American City." High Point was part of the Civil Rights Movement of the 1960s and had the first lunch-counter protests by high-school students who were inspired by the lunch-counter protests just down the road at the now famous Woolworth's in Greensboro, NC.
The content of the film and the experience of in the largely black audience helped further cement this morning's ruminations that there are many rules set up to de-value the contributions—and even the votes!—of others, and, sadly, we need constant vigilance on these matters.
---
---
2016
December, 2016
November, 2016
October, 2016
September, 2016
August, 2016
July, 2016
June, 2016
May, 2016
April, 2016
March, 2016
February, 2016
January, 2016

2015
December, 2015
November, 2015
October, 2015
September, 2015
August, 2015
July, 2015
June, 2015
May, 2015
April, 2015
March, 2015
February, 2015
January, 2015